WWII WRECKS
Throughout history, ships have been lost at sea due to war, day-to-day trade and severe weather events. With our increasing need to protect our oceans health from pollution, sunken shipwrecks have recently been receiving increased attention as a potential environmental and health threat. World War II was the single, largest loss of shipping in a relatively short period of time the world has ever witnessed.
Over the past century the occurrence of regional and global wars has left a legacy of thousands of sunken vessels across our oceans. The international community is aware of the problem of sunken wrecks and the potential pollution threat but not the magnitude of the global problem of the scale of the threat.
The Sea Australia WWII shipwreck database currently holds information for over 8000 vessels worldwide. This information has been incorporated into a GIS from which we can graphically map the data. Current information in the Sea Australia database details ship type, tonnage and latitude and longitude of over 8000 WWII vessels. Total tonnage of WWII shipwrecks globally currently stands at over 34 million tons of shipping.
Current world map showing location of WWII shipwrecks from the Sea Australia database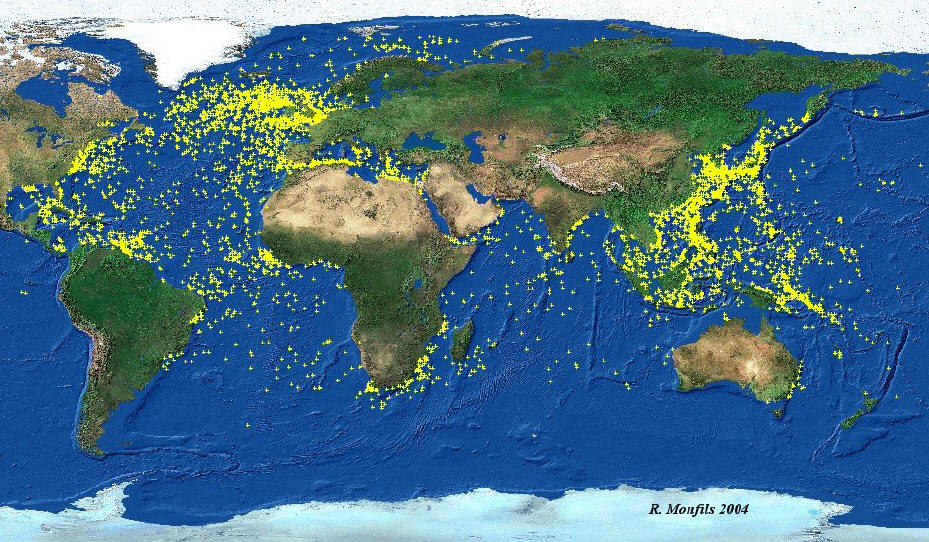 You are welcome to download and use these maps provided that "R. Monfils" copyright acknowledgement remains on the image or the following acknowledgement accompanies the image: (c) copyright R.Monfils "year".